I am half Italian and half Filipina. This was my very first time in the Philippines, a country comprising more than 7,000 islands. Its capital, Manila, is one of the most populous cities in the world. My mom comes from the Island of Bohol. On my first trip, I also visited some other beautiful places like Boracay with its amazing white sand beaches, Oslob where huge shark whales gently swim with people, and the beautiful city of Dumaguete.
My first travel to the Philippines
I was less than two when my parents decided to bring me to half my origin country, the Philippines. My mom is Filipina and it was her first time to go back since she moved to Italy. It was January when we started our long journey and that day the weather was unusually cold in our place with snowfall. So, we were looking forward to being in the tropical Philippines.
The flight was quite long, first to Istanbul, then Hong Kong and finally Manila. I got ill the first day in Manila, maybe because of the sudden change in climate. Mom loves that city because she used to work there as a bank officer before moving to Italy and she still has a lot of friends. Dad keeps on saying that it's crazy there but I believe he also enjoys the megacity of Manila.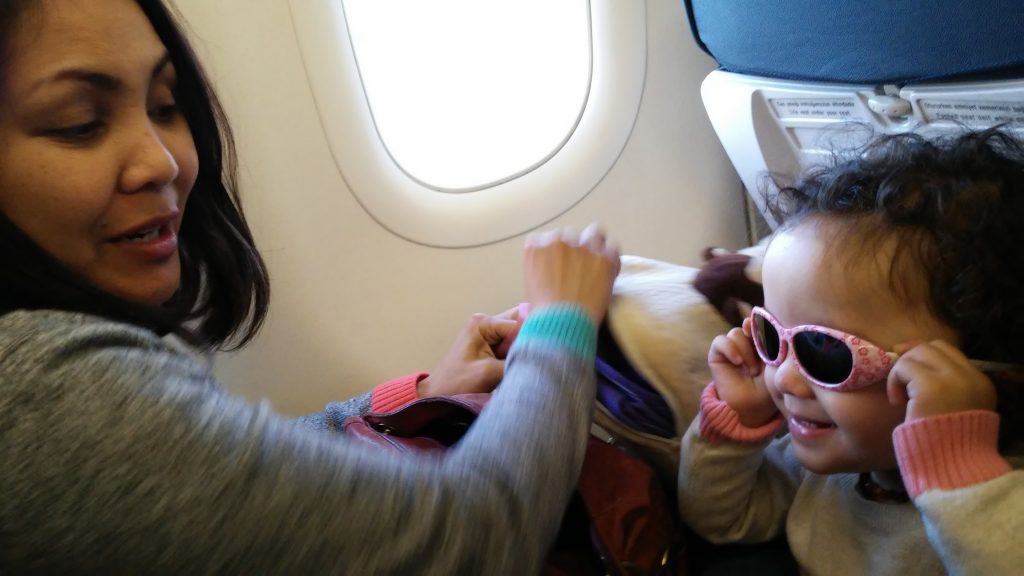 Metro Manila
We spent two days and two nights in Manila. We met some friends and visited huge malls. It is really amazing how many shopping malls they have and the luxury that you can find inside, together with normal shops and a great number of places to eat.
In Manila, I finally met Lola and Lolo (grandma and grandpa in the Philippines), and cousins of mom for the first time. We had lunch together in one of the best places to have seafood though I prefer McDonald's happy meal because it has toys in it.
The Island of Bohol
I took another flight from Manila to Tagbilaran (Bohol Island) with my parents and grandparents. It was lunchtime when we arrived so we made some short stop at the local mall and there I met Jollibee, the mascot of a famous fast food chain of the same name, I like Jollibee.
Lara Beach Bohol
Since the house of my Lola needed some fixing, we stayed in a resort in Guindulman, not so far from Candijay and just a few meters from Lara Beach Bohol. Wow, it has the same name as me! Indeed, Lara Beach Bohol is our beach property and a piece of Paradise in the Philippines, white sandy beach, and crystal blue water. In fact, my dad dreams of living on the beach in the Philippines but my mom, for now, seems to like more her life in Italy.
A lot of new friends…
I met some of my relatives in Bohol, and they were so happy playing and taking care of me. Filipino people are very friendly, in fact, I made a lot of new friends on the beach and played with them.
Bumpy ride in Bohol
We had to go to my Lola's house for lunch almost every day and we took the tricycle, a unique means of transportation. In the province of the Philippines. Food is pretty simple but tasty and healthy with fresh fish and all kind of vegetable, fruits, and the best rice. I like eating rice and fish with my bare hands.
Boracay Island
After one week in Bohol, we went to Cebu to catch a flight to Boracay, a beautiful island with one of the best beaches in the world. We took a taxi to bring us to the airport which is about 10km away but, we were stuck in the tremendous traffic of Cebu City and therefore we missed our flight. As a result, we had to take the next flight and arrived late on the island.
Boracay is one of the most beautiful destinations in the world with very long and wide sandy white beaches and crystal clear water. There are a lot of activities you could do and plenty of places to eat and relax. We had a great time!
Our Adventure in Oslob, Cebu Island
After a few days on the Island of Boracay, we took our flight back to Cebu and then caught a line bus to Oslob. It was 5 hours' drive and I was a really good girl. In fact, mom and dad, always tell me that I am a good travel buddy for them. We were going to meet our friends from Dumaguete in Oslob to fulfill one of Papa's bucket list: swimming with the whale shark.
The next morning we checked out and left our bags so that we could get a ride to the nearby whale shark watching site. On a small boat, our local tour guide brought us in the middle of the sea, just one hundred meters from the shore and from there we could see several giant whale sharks swimming around. Papa could not wait any minute longer and he jumped into the sea to swim with them.
These gentle giants move slowly and they might even bump into you but papa said that it was like being hit with a pillow full of downs. I was very small then, so Mom and I just waited in the boat but we could clearly see the whale sharks swimming gently with humans. Dad promised that we will go back there and this time I will swim with my whale friends.
Dumaguete City
In the afternoon, together with our friends, we took a boat bound to Dumaguete City where our friends live. We spent a couple of days there roaming around the city and catching up with our friends. They all say that it is probably the best city in the Philippines, especially if you intend for retirement.
Long flight home from the Philippines
After almost a month in the Philippines, it was time to go back home and we said goodbye to family and friends in Bohol and got on a plane from Tagbilaran to Manila. We spent another day in the megacity and then flew again, first to Hong Kong and then to Istanbul. However, our flight back to Italy was canceled and we had to stay another day in Istanbul.
Turkish Airlines took care of us, brought us to a nice hotel with a beautiful room and free food for one full day. Since we had time, we went back to visit the city center. That was my third visit to Istanbul in just over one year! After this extra and unexpected day, it was time for us to go home.
More photos of the Philippines…