Morocco is a beautiful country with coastlines both on the Atlantic and Mediterranean side. It is very different from its neighbors for its rugged mountain interior and a history of independence. Its rich culture is a blend of Arab, Berber, European and African influences. Before Sultan Mohammed became king, Morocco was a French protectorate and, in fact, the influence of French domination is very present in many aspects of Moroccan life and culture.
Why Morocco?
We were looking for a new beautiful destination, not too far from Sicily, easy to reach, and not expensive. All this we found in Morocco! This was also my fifth continent and an easy start for my explorations of Africa. Morocco is a modern and ancient land with very good road infrastructure and a wonderful and welcoming population. Of ancient, there are not only the remains of its glorious history but often also its people who, in some parts of the country, still live as if they were in ancient Rome. And, on the roads of Morocco, we traveled between distances and time.
First stop: Marrakech
On an unusually fresh morning in May with a temperature of around 15 C , we got on a direct flight from Catania to Marrakech landing two hours later in the scorching heat of Africa and with a temperature of 44C.
Unfortunately, we had booked a rental car only starting the next day and we could only reach our place by taxi. It is useless to get upset about taxi fares. In fact, you can read that the official fare is 70 MAD but no way you are going to pay less than 150 MAD, and so we did despite trying hard not to.
However, our first day in Morocco was not as we had expected, because mom got sick for the intense heat and so we spent most of our time in our Riad.
Morrocco: Here we go!
Our Morocco adventure started on day two. Breakfast at our Riad was fabulous. After that, we drove back to the Airport to get our rental car: it was a Dacia SUV thru Check24.
We were heading to Fes and the best way is the highway from Marrakech that goes to Casablanca, Rabatt, and then to destination.  We had lunch in the area of Casablanca at a local Burger King, and I took some time to relax at their nice playground. Maybe, I played too long because we reached Meknes (before Fes) when it was almost sunset. Meknes is one of the four Imperial cities of Morocco and it was the capital under the reign of Sultan MoulayIsmaïl (1672–1727). It is a nice city but we were tired and still a bit far from our final destination. So, after a short work thru the historical city, we had to move again to reach Fes.
One thing we learned from our trip is that you cannot trust your GPS. Our TomTom was perfect to show you the main direction but it lacked a lot of details. So, the only way to get more precise was by Google Map, though not 100%. We were in Fes but we could not find our hotel, a basic but very clean Ibis. While we were trying to find out how to get there a local came to us to ask if we needed some help. He offered to show us the way to our hotel and after 10 minutes we finally arrived. Our nice Moroccan friend was a local guide and he did not accept any tip bu offered to take us to the medina of Fes for 200 MAD the next day.
Going to the Sahara Desert
After a good rest, we were faced with two choices: call our friend and visit Fes and its medina or drive to Merzouga. Mom wanted to visit the souks and papa did not. We decided on the second. Our first stop for lunch was in Ifrane, the Switzerland of Morocco, in the Middle Atlas Mountains. At an altitude of 1650 meters, Ifrane is the coldest city in Africa, just six miles from the Mischliffen ski area. The town was absolutely clean and, despite the heatwave across Morocco, we had a pleasant walk around before our early lunch.
After our relaxing time in this beautiful place, it was time for us to move on considering that our destination was still very far. It is an incredible drive thru the mountains of Morocco and its breathtaking landscape. As a matter of fact, we had expected to have a rough ride. However, most roads in Morocco are in good conditions and even far better than their Italian counterparts.
Tourists, though, face some other dangers: the police! Roadblocks are quite common in Morocco and they often are used by the local police to rob tourist of some money and that is what also happened to us in Midelt. In fact, we were stopped by two policemen that were checking drivers for speeding. We were not going fast, so they accused papa of violating a road regulation which was not true. To fix the matter, after getting all our passports and papa's license, our "gentle robber" asked for 400 MAD but papa managed to get a discounted price for our freedom down to 100 MAD. Obviously, it was all in cash and the "honest" policeman put it nicely in his pocket. We were finally free to go.
Merzouga is the door of the Sahara Desert
After a stop at a nice playground for some relax, we drove all the way to Merzouga where we arrived after sunset. We had a confirmed reservation at Chez Josef, a very nice accommodation at the edge of the Sahara desert. However, our friend Josef somehow had not been informed of it by the booking engine.
In a few minutes, Josef got a scarf for my dad (as a birthday present) and called his friend Ali to book a room at the same price in one of the most wonderful accommodation we have ever been: the Hotel Riad Ali of Merzouga, just a few meters from Josef. We had a fantastic birthday dinner near the pool with an unforgettable atmosphere. Breakfast in Hotel Riad Ali was the best with plenty of food to choose from. Maybe, we should have stayed one day longer at the fantastic Riad.
The Village of Rissani
A short drive from Merzouga, there is a beautiful Moroccan village called Rissani. So far, we had managed to avoid the pressure of the locals that wanted to become our guides and even in Rissani we almost succeeded.
In Morocco, it is not uncommon to meet people that are able to speak up to five or six languages in a relatively good way and Rissani was no exception. We tried to enter the local wet market alone but we met a nice person with his face reminding papa of his auntie. Now we know: the Italian side of my family has Berber origins! Moroccans are very nice people but extremely pushy. However, you have to get used to that if you want to enjoy yourself. Everyone, in fact, is offering their help wherever and whenever to earn some extra money to support their families.
Our new friend took us to the very best of Rissani's Market (the Souk): from the local produce to the best spices of Morocco, from the donkey to the sheep market. We ended up buying some local exquisite spices and a beautiful blanket at a fair price from the family shop of our tour guide. After our interesting morning in Rissani, we drove back to Merzouga in time for lunch. We chose a basic place and that was where papa had his best Tajine ever. The place looked untidy and definitely not clean but the food was absolutely yummy!
Desert adventure in the Sahara
After lunch, we got on our car and drove to our desert camp in a small village next to Merzouga that was the starting point for our next desert adventure. We were a small group of nine people, including me. From the edge of the desert, we started our camel ride: mamma and me in front of the group and papa following right behind us and then the rest of the group. The ride was great fun and from the top of the camels, the landscape looked amazing.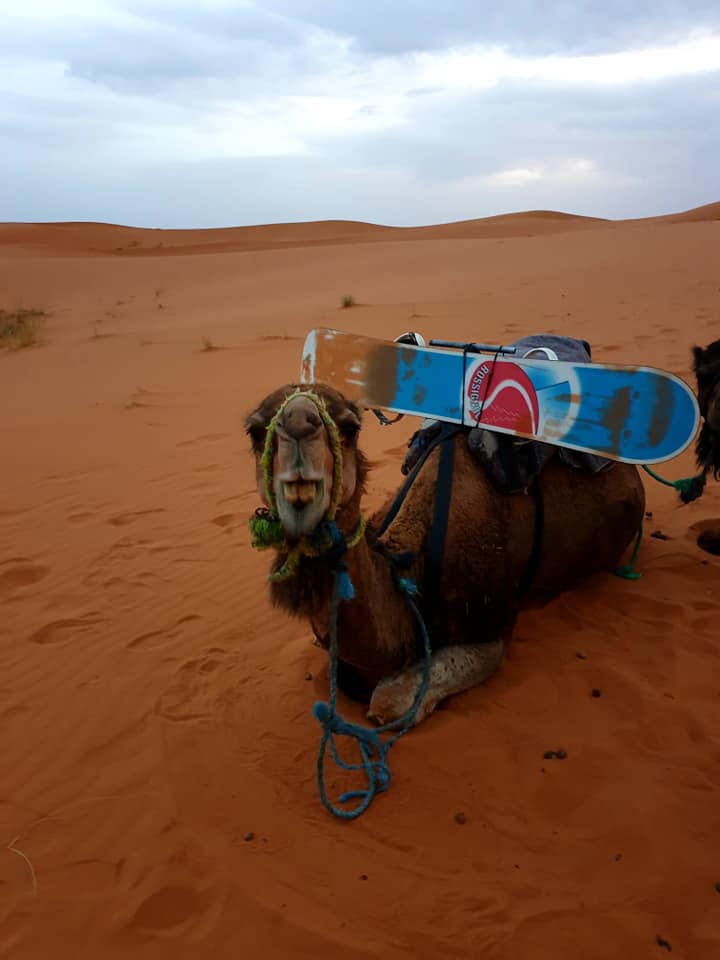 We reached the top of a high dune to watch the sunset. Soon after, we rode back to our camp in time for dinner. After the night in the desert, we were woken up just before sunrise and I surprised them all. In fact, I ran fast thru the dunes and in around 30 minutes we reached the highest point in time for sunrise. The view was stunning and colors changing with the light. After so much beauty, we ran down from the dunes to our camp. Breakfast ready then time to continue our Morocco tour, this time our destination was Ouarzazate.
From Merzouga to Ouarzazate
From Merzouga, past Rissani and then our first stop in the beautiful town of Tinghir for lunch. Mamma was a bit sad because we were not able to see around Tinghir. The place was lovely with all the red mud houses lining up around the oases.
From there it is a short drive to the Todra gorges where we had a refreshing time with our feet in the cold waters of the river coming down from the mountains.
Another must on the way to Ouarzazate are the Dades gorges with a breathtaking landscape made of mountains and curves. We drove up to the Hotel Restaurant Timzzillite and from there, the view was amazing.
We reached the Rose Valley Hotel in Ouarzazate when it was already dark. It is a 2-star hotel with nice rooms, a pool, an excellent bar, a tasty restaurant, and wonderful personnel. They were kind and ready to help, and always smiling. I highly recommend staying at the Rose Valley when in Ouarzazate.
Ouarzazate, the Hollywood of Africa
The city of Ouarzazate has a lot to offer: from the ancient Kasbahs to the oasis of Fint, from the Cinema Museum to the Atlas Cinema Studios. Ouarzazate is the Hollywood of Africa. For the beauty of its landscape and the proximity to the Sahara desert, this place has been chosen as the setting for numerous successful movies from all over the world.
After spending two nights in Ouarzazate, it was time to drive back to Marrakech. This part of our trip had not as good roads as all other roads we had been driving so far in Morocco but it was probably among the most beautiful.Our first stop was at the Ksar of Ait-Ben-Haddou, the queen of all Kasbahs. The ksar, a group of earthen buildings surrounded by high walls, is a traditional pre-Saharan habitat. Almost everybody has seen this place, being one of the most-loved film settings in the world. Lawrence of Arabia, Jesus of Nazareth, The Mummy, Gladiator, and Game of Thrones are just a few of the long list of movies and tv series shot on this incredible location. Ficarra and Picone, the most loved comedians in Italy, recently chose this locatiion for their last movie: Il Primo Natale (The First Christmas).
After our wonderful time in the ksar, we decided to drive thru the mountains to Telouet Kasbah. We reached that place in time for lunch. There was a wonderful restaurant with a beautiful view of the High Atlas. This time the food was cooked in a French style, adding a lot of ingredients that made dishes too sweet for our taste. The French cook spoiled the Tajine of papa and he was completely disappointed by the food. However, we still had a great time in that wonderful place.
The High Atlas and the Tizi'ntTichka Pass
The only way to get from Ouarzazate to Marrakech is thru the High Atlas by the Tizi'ntTichka pass (2260 meters). The road to the top was just perfect and it offered incredible views. On top, mamma bought a lot of stones.
At first, she believed to have got rich but soon she realized that those stones are dyed, she was duped and they were probably just worth the price we managed to haggle down after a long talk with our seller friends. After the top of the Atlas, it was a long way down with many curves and difficult overtaking of trucks. The road was being rebuilt throughout most of the way.
Back to Marrakesh
After so much nature and paradise, we reached the outskirt of Marrakech with its traffic and chaos all around. We left our rental car at the airport and took a taxi to our Riad in the center of Marrakech.
Unfortunately, staying in the center often means also having to walk long distances to get to the hotel because most of the area around the Jemaa el Fna is banned to cars. Tired and stressed, we finally reached our accommodation.
There's nowhere in Morocco like the Jemaa el Fna. By day, you can find snake charmers with their cobras with flutes, medicine men, and tooth-pullers, wielding fearsome pliers. At dusk, the square fills with storytellers, acrobats, musicians, and entertainers. Plus, from the rooftop terraces, you can enjoy your meal overlooking it all unless you prefer the cheaper option of restaurants preparing their food directly on the square.
Unfortunately, it was already getting dark and we did not have much time left, except for dinner and for the last walk thru the souvenirs' shops. Our flight home was due for the next morning at 5:30 am.
My first time trip to Africa was over but I was bringing back home beautiful memories to cherish.
More Photos of Morrocco…